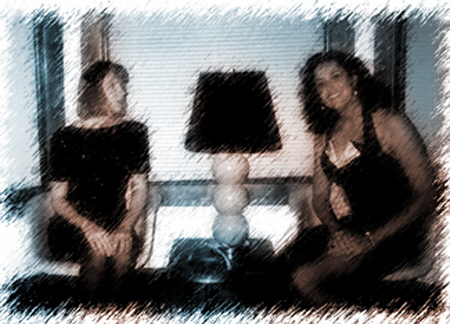 Once Wanted You as my Friend
Janet Kuypers
I should laugh about this. I know
that people will probably hear your stories
and think I was a bad and evil girl.
I don't care. I didn't want to be
a part of your life any more.
I wanted you as my friend
after I was falling apart
and I thought I had no one
and I wanted my life back
and because I believed you.
You told people I was your best friend
and you are a liar, plainly put.
I didn't know you'd fuck
your best friend's date. Hell,
fuck the guy for a month until
your neurotic ego can't take it.
I don't give a shit
about a year and a half
recovery from that
evil spell of yours
but I should never have forgiven you.
Maybe you need attention
from every penis you can get it from,
maybe you're more of an attention whore
than I could ever be,
than anyone I know could ever be,
by my neurotic tendencies
didn't keep me in my parent's house
while I studied for another job
because I didn't know what the Hell I wanted
and maybe my tendencies didn't make me
lose my friends
or go through men like hand rags
or give me sexually transmitted diseases
and didn't leave me fucking someone else
while I was engaged
"I've never orgasmed
while having sex with him," you'd say
well, I don't know what to tell you.
All I can think
is that you've made this bad
out of straw and fabric scraps
and I don't care if it rained yesterday
and your precious bed smells like shit
and you've got nothing clean to grab on to
well, you've made that bed
and now you have to lie in it.
so
so have a good night's sleep
while you try to make sense
of what you think is insane
God, the only insane thing
is that your man still puts up with you
or how much of your story
haven't you told him?
So yes, I should be laughing
because you're the one filled
with so many questions. Please,
for your own benefit,
for OUR own benefit,
get them figured out.
I wanted to cut off ties from you sooner
but I would have had to lose one of my
closest friends in the process
and we couldn't have that (of course not).
But I'm glad your warped mentality
misconstrued what I said
and that is exactly what you did
nothing more, nothing less
but you at least got the idea
because no, I don't want to be a part
of your life any longer
and I don't want to openly condone
what you've done to your man
and what you're doing to your man
and I want to walk away from this unscathed
so I think I will.



Copyright Janet Kuypers.
All rights reserved. No material
may be reprinted without express permission.